If you are the one who want thrill, excitement, serenity, nature's best view all at one destination then the great Himalayan mountain are the place for you. Tourism in the Himalayas, thus, is wonderful experience. Trailing through the Himalayan region, brings you directly in contact with the country and its people, and helps to foster an appreciation of the mountain environments.
Great Himalayas - Travelers Paradise
From thick forest to lush valleys, from tropical jungles to mighty hills, from different species of flora and fauna to romantic weather, Himalayan ranges have it all. Also indulge in adventure activities in the Himalayas like trekking, rafting, skiing, mountaineering and many others like this.
Himalayas is the most preferred destination among the adventure buffs. You can just go on and on enjoying the beauty of Himalayas through in adventure activities like rafting, trekking, mountaineering and lot more. Conquer the towering peaks while climbing the mountains or struggle to keep you balance while the water lash out at your face during rafting.
The travel destinations located in the lap of Himalayas are a true treat fro those looking for something more on their vacations. From romantic weather to exotic flora and fauna, Himalayan destinations will leave you awe struck.
From the earliest records, the Himalayas have been revered as the Abode of Gods. This mountain range marks the crossroads of Asia's three main cultures Hinduism, Buddhism & Islam.
Want to explore the true beauty of mighty Himalayan peaks, but confused how to do so? You do no have to put so much of efforts when Himalaya travel tours are here to help you. Customize your trip according to your needs and also get to avail exciting offers, only with Travel Himalayas.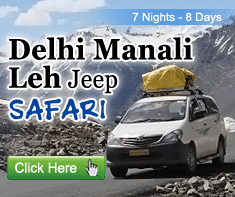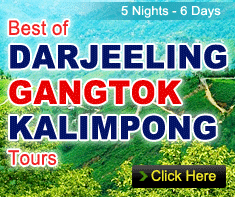 Nepal Tour
Duration :
06 Nights -07 Days
Places Covered :
Bhaktapur - Kathmandu - Pokhara
Vaishno Devi Tour Package
Duration :
04 Days
Places Covered :
Delhi - Jammu - Katra
Sikkim Darjeeling Tour
Duration :
08 Nights - 09 Days
Places Covered :
Bagdogra - Darjeeling - Kalimpong
Kashmir Tour Package
Duration :
07 Night - 08 Days
Places Covered :
Delhi - Srinagar - Sonamarg
Manali - Leh Jeep Safari
Duration :
07 Night - 08 Days
Places Covered :
Baralacha Pass - Lachung La - Tanglang La
Nepal Tour Package
Duration :
09 Nights -10 Days
Places Covered :
Delhi - Kathmandu - Patan
Darjeeling Tour
Duration :
07 Nights - 08 Days
Places Covered :
Bagdogra - Darjeeling - Pemayangtse
Rafting - Rishikesh
Duration :
02 Nights - 03 Days
Places Covered :
Rishikesh - Shivpuri - Rishikesh
Ladakh - The Land of Lamas
Duration :
06 Days
Places Covered :
Leh
Nepal with India Tour
Duration :
17 Days - 16 Nights
Places Covered :
Delhi - Jaipur - Agra