The majestic Himalayas figure prominently not only in the topography of India but in its history and mythology as well. The youngest mountain range in the world, and yet the mightiest, the Himalayas are many things to many people.


Mount Kailash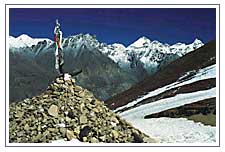 Mount Kailash, which is believed to have been formed 30 million years ago when Himalayas were in their early stage of formation, is one of the most revered places in the Himalayas.
Spread out on the Tibetan plateau beside Mount Kailash is the giant lake of shifting colours - Lake Mansarovar. Brahma, the creator, had a mind ('Man') for the creation of a lake ('Sarovar'), hence its name. A pilgrimage to Mount Kailash and a bath in the Mansarovar is believed to bring about salvation (Moksha).