Kullu was once known as "Kulanthpitha", which means the end of the habitable world. Beyond rose the forbidding heights of the Greater Himalayas, and by the banks of the shining river Beas, lay the fabled 'Silver Valley' of Kulu. Here is the core of an intricate web of numerous valleys - each of which is a visual delight and seems more beautiful than the other. The Himalayan mountain scapes remain spectacular whether in brilliant sunshine or in the haze of the mist.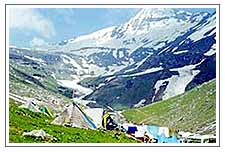 The town of Kullu has long been a centre of faith. In the 17th century, Raja Jagat Singh installed here an idol of Lord Raghunathji, which he brought from Ayodhya. As a mark of his penance, he placed the idol on his throne and it became the presiding deity of the Kullu valley.
The town of Kulu is famous for its colourful Dussehra festival. Decorated palanquins and processions convey Gods and Goddesses from temples all over the valley to Kullu, to pay homage to the reigning deity, Raghunathji. A Fair springs up during the festival which is celebrated with a great deal of singing, dancing and festivity.

Places Of Interest In Kullu
Raghunathji Temple:
In the 17th century, Raja Jagat Singh of Kulu committed a great wrong. To atone for the sin he sent a senior courtier to Ayodhya for a statue of Lord Raghunath - Lord Ram. This temple was built by Raja Jagat Singh to house the image and even today, is greatly revered. The shrine houses an image of Shri Raghunath in his chariot.
Bijli Mahadev Temple:
Set on a spur that offers some spectacular views, this temple is famous for its 20m high rod that periodically draws lightning, which shatters the 'Shivalinga' and scorches the building. Using only butter as adhesive, the 'linga' is then carefully pieced together by the temple pundit.