In the first quarter of the 20th century, George Francis Light, a young English subaltern, likened the plains of India to one vast prison in which the sun, aided at one period of the year by hot winds, acted the part of jailor. For Englishmen toiling in the plains, a sojourn in the hills was a welcome escape, liberation from the dungeons.
They established hill stations on the periphery of the Himalayas from Shimla to Darjeeling. These townships were cast in the mould of small English hamlets, which reminded the colonial masters of their homeland and provided a temporary relief from homesickness. These also served as cantonments, sanatoria and resorts. In time, schools, hotels, hospitals, theatres and malls were built up.

Start Of Himalayan Expeditions
Shimla was designated the summer capital of the viceroy and the annual exodus from Calcutta and then Delhi, was a hallowed ritual. Rudyard Kipling has immortalized the life and times of Anglo-India in his stories and sketches. The stern officers and custodians of the Raj behaved like schoolboys playing truant once they broke loose from their desks.
Not everyone pursued pleasure.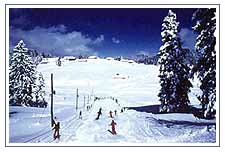 It was during this period that a systematic study of the Himalayas was undertaken. The enthusiasm of administrators resulted in exploration and construction of roads, bridges and so on. The Himalayas became more accessible and familiar to the common man. Its breathtaking beauty continues to revive visitors.