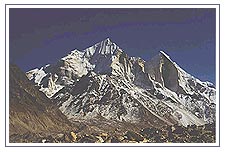 Himalayan range covers the entire northern part of India, nestling five major states of the country within it. The ancient Indian pilgrims who have travelled in these mountains since time immemorial coined a Sanskrit word for the Himalayas meaning "Abode of Snow".
Some of the reasons why people have been so fascinated by the Indian Himalayas is because of the Hindu pilgrim routes, the low valleys that abruptly rise up in high mountain ranges, the lovely trekking hikes, densely forested areas lying just a mountain range away from barren cold deserts, and the lovely people of the mountains with their unique hospitable lifestyles.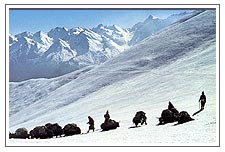 Nepal is known as a true Himalayan Kingdom, reason being this country contains nine of the world's fourteen highest peaks. The Himalayas cover three fourths of the land in Nepal. This country is home to some of the highest, rugged, remote and most difficult terrain in the world.
With world's highest mountain peak Mount Everest, other high peaks like Lhotse, Nuptse, Annapurna, Dhaulagiri, Manaslu and the presence of some very beautiful trekking routes and adventure sports, Nepal attracts thousands of adventure sports enthusiasts from all over the world every year.