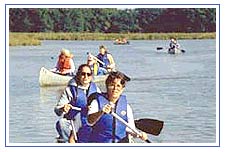 Whether it is the challenge of taming the white waters or the pleasure of gliding over calm waters on a lake, canoeing or kayaking can be thrilling and exciting adventure to any sports enthusiast.. Kayaking is just like backpacking on an off beaten path, except that this time your adventure is on the sea. This sport provide the best opportunity for sports lovers to come close to nature. While canoeing presents quiet a unique combination of exploration.
Besides keep a person fit, canoeing and Kayaking are eco-friendly water sports. Canoes and kayaks are boats tapered at their ends so that they may cut through water easily. This unique feature makes them highly efficient on trying on most kind of water bodies. Canoes can accommodate atleast two people with their gear and is usually practiced on lakes and rivers, which have flat and still water.
On the other hand, Kayaks look like small fishing boat and are not a new thing in the Indian coastal sites, but they are fastly picking up as a favourite water sport in India. A Kayak can accommodate more than two people and can be done of both flat and white water. Ofcourse, the beach is one of the best option to try out these kind of sports, but second best in the lines are the lakes and rivers of India. Gliding through the untamed waters of rivers such as Teesta is something that you won't experince any where else in this world.