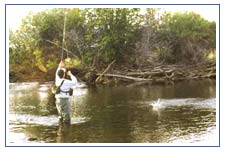 Angling could become a very enjoyable sport that is if you've got planty of time in hand and loads of patience. This eco friendl;y sport is not for those who run out of patience every time they lose a fish or get tired for waiting for their catch! Hardly any anglers round the world have any idea that India makes a wonderful paradise for anglers.
And why not! With the so many rivers, streams there are numerous oppurtunites available for anglers to opt for sport fishing and angling in India. Beside the coastal areas, the foothill region of the Himalayas in northern states of India and the southern region of Nepal offer numerous oppurtunites to catch fish especially trout and Mahseer. Whether you're the type who likes to string a worm onto a makeshift line and catch your own dinner or a thoroughbred professional angler with the latest in fishing tackle- India's waters, both fresh and salt, can be a pleasant surprise.
Another kind of fishing related activity is Angling that has important methods of conservation. A good, healthy stock of fish is not the only product of the conservation efforts of anglers, waterside plants, insects, birds, mammals and reptiles also get benefit of Eco friendly sport. More of all angling or sport fishing is quiet an easy sport for even a beginner because most of major Indian cities lie along rivers, that's why these cities become a favourite fishing spot for most of the anglers.
Most of the states in India have also organised Fishing hatcheries, the breeding centres of bothy local and exotic fishes. Fish sanctuaries and hatcheries in Jammu and Kashmir, Himachal Pradesh, Uttaranachal have major flow, and maintain a vast stock of fish, which are specially bred for re-stocking rivers.