Nepal - a country of amazing extremes, is the home of the World's highest mountains, historic cities and the forested plains where the lordly tigers and the great one-horned Rhinoceros trundle at ease. in fact enchantment is everywhere for anyone in search of Shangrila!
Nepal, a sovereign independent Kingdom, is bounded on the North by the Tibetan Autonomous Region of the People's Republic of China, the East-south and West by India. The length of the kingdom is 885-kms East-West and it's breadth varies from 145-241-kms North-South. The country can be divided into three main geographical regions:

Nepal Himalaya Region:
The altitude of this region ranges between 4877-m.- 8848 m. it includes 8 of the highest 14 summits in the world, which exceed altitude of 8,000m including Annapurna, Dhaulagiri and others.

Nepal Mountain Region: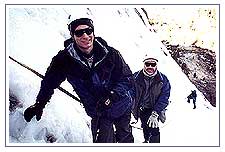 This region accounts for about 64% of total land area. It is formed by the Mahabharat range that soars up to 4,877m and the lower Churia range.