Dharamsala over looks the plains and is surrounded by dense pine trees and Deodar forests. A nearby snowline with numerous streams and cool healthy atmosphere makes the surroundings very attractive. A busy bazaar town, Dharamsala has established itself as the travellers base camp, who come to explore the nearby mountains. The Kotwali Bazaar provides the entire colour and characteristic of a small town, which is mixed with the simple life style.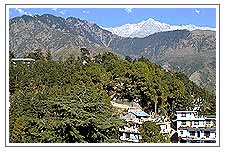 The colourful temple and Gompas, which reflect the culture of Tibet, adds attraction for the visitor. The Kangra museum gives an overview of the rich past of the region and on the other hand there are institutes that have been established to preserve the Tibetan art, cultures and traditions.
Today, Dharamsala has become the synonymous to the Tibetan government in exile and the home of Tibetan leader Dalai Lama. Even if the Tibetan community dominates the town, still it has retained the colonial lifestyle and British fervour.