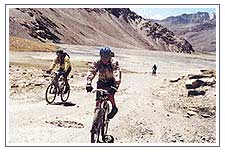 Cycling in the Himalayas really involves a combination of travelling by bus, walking and cycling. There are sections of one's journey which involve long, uphill climbing which are best covered by mounting one's cycle onto a bus so as to arrive at the starting point of one's real journey. For instance, the road sections from Kalka to Shimla or Kathgodam to Nainital, or Chandigarh to Manali where the road climbs steadily upwards for kilometre after kilometre and where bus and car traffic are heavy, give no pleasure to the mountain cyclist.

Cautions While Cycling
But first, choice of a cycle. There are a wide variety of models in the market from which one can choose. There are cycles with sprung suspensions to cushion one against the bumpy roads, cycles with broad deep threaded tyres to grip the road more firmly, cycles with slim sporty trims for greater lightness. One can choose any of these.
However, one essential feature that is required is that the machine should be equipped with multi speed gears to enable one to deal comfortably with the climbs and slopes of the mountains. In addition, one should carry with one the wherewithal to repair a puncture and a spare set of brake shoes.