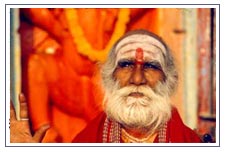 Since time immemorial, the Himalayas has been recognized as the sanctuary for ascetics and philosophers. The Himalayas also occupy a central place in Hinduism. The whole region is considered the realm of Shiva- the supreme ascetic, and 'Pashupati' - the protecting deity of pastoral herds. Lord Shiva is worshipped in the form of a lingam - a phallus symbolizing the male principle in the universe. In his manifestation as the cosmic darer, the 'Natraja', he rhythmically creates and destroys the cosmos.
Famous shrines like the ice cave at Amarnath in Kashmir, the glacial formation at Kedarnath in Garhwal, and Jageshwar amidst a thick stand of deodar in Kumaon are dedicated to him. Kalidas, a resident of Ujjain, a city of Shiva, aptly described the Himalaya as the dazzling laughter of Shiva.
Nor is Vishnu the protector forgotten here. Interstingly, Sankara, a Saiva 9akso spelt as Shaiv) South Indian saint from Kerala, at the southernmost tip of India, is credited with the restoration and consecration of the Badrinath shrine - one of the four major pilgrimages prescribed for a believing Hindu. It is a 'Dhama' (an important sacred destination).
There is a venerated Sikh shrine at Hemkund, a high-altitude lake on the fringer of the Valley of Flowers. Legend informs us that it was here that a Sikh guru did penance and was rewarded with a divine vision.