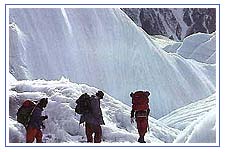 The lure of Himalayas is irresistible for the mountaineers, as the Himalayas are the greatest range of mountains on earth, their beauty, vastness, fascination and mystery will always have an everlasting appeal for those who venture in this region.
The Himalayas, by humbling those that come to them with its magnitude and power, gratifying them with its splendour and beauty, testing their determination by glaciers and peaks, defying their spirit with their inviolate mysteries-enables man to acquire the qualities which only danger and nature in the raw can sharpen. Mountaineering accentuates and exercises the quality of self-reliance, leadership and discipline amongst adventure sports lovers.

Mountaineering Institutes & Adventure Sports Clubs
The conquest of Everest acted as a stimulus to Indian mountaineering and in 1954, the Himalayan Mountaineering Institute at Darjeeling was established with the late major N.D. Jayal (Nandu) as its first principal. Since then other institutes have been set up at Uttarkashi in Uttaranchal and at Manali in Himachal Pradesh.
In addition to these three institutes, there are a number of small institutions and clubs all over India where short courses on rock climbing etc are available. Basic courses in mountaineering are devoted to theoretical training-consisting of lectures on high altitude physiology, history of mountaineering, mountain fauna and flora, geomorphology, geology, map reading and glaciology.
During the course, films on wildlife, mountaineering expeditions, and allied subjects are shown. The practical side is covered by treks where training on rock, snow and ice is given. This period culminates with a climb to a peak of 5,490m and 6,100m as part of the advanced course, expeditions are organised to peaks such as Kamet, Trisul, etc..