The Inhabitants And The Migrants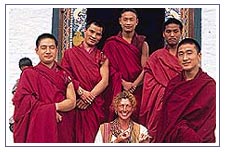 The Hindu epics and Puranas refer to the original inhabitants of the Himalayas- the Kulinds, Kiratas and Kilinds, Kiratas and Kinnars and later texts mention the Khasas and the Darads. Today three ethnic types constitute the Himalayan population: Negroids, Mongoloids and Aryans.
From very early times there have been migrations into the Himalayas and within it. Spiritual quest motivated a few to migrate there, and a small minority responded to the call of these mountains to test their own endurance and will power. Pursuit of profit propelled others. Reasons of state dictated the posting of garrisons even in remote, desolate areas. All these factors combined over a period of time to change significantly the complexion of the local populace. There have been waves of migration from Nepal to Sikkim and Kumaon, for instance, and from Tibet. At present it is extremely difficult to separate the different racial strains.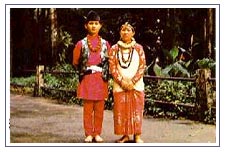 The Sikkimese consist of three different groups - the Lepchas, the Bhutiyas and the Nepalis. The Lepchas are the original inhabitants but are now in a minority. Not much is known of their history before their conversion to Buddhism and the enthronement of Phuntsok Namgyal as the first historic ruler of Sikkim.