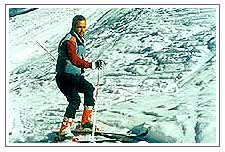 A hiss road with superb views links Narkanda with Shimla. Narkanda, located amidst fragrant pine forests is a ski resort in winter. It has a choice of slopes ranging from a beginners run and slalom slope, to sharper descents for the experienced skier.
What gives Narkanda its awe-inspiring view of the snowy peaks is the fact that it is located on the ridge of the last watershed before the Himalayan range. Below Narkanda, to the north is the Sutlej Valley and beyond it is the snowy massif. The ridge on which Narkanda stands is the watershed between the Sutlej on the north and the Giri river. The sleepy town of Narkanda sits astride the watershed between the Arabian Sea and Bay of Bengal.

Places Of Interest In Narkanda
Hattu Peak :
A better view of Narkanda is obtained from the nearby Hattu peak, which is nearly 2,000-feet higher than Narkanda, and just over an hour's trekking distance from it.
Hattu Mata Temple:
The ancient temple of Hattu Mata is alive with skiers.