Darjeeling is the Queen of India's hill stations. Its setting is one of incomparable beauty. A Victorian town of old world charm 'discovered' by the British, it is almost completely surrounded by fragrant tea gardens which seem to flow over the layered slopes like emerald swells on a rough sea. These are in turn interspersed by untamed jungle of Fern and Bamboo, groves of sweet smelling Coniferous trees and hamlets lost and which may be the finest this earth has to offer, It hits one like Darjeeling's true name, "Dorje Ling", or 'Place of the Thunderbolt'.
Part Victorian holiday resort, part major tea-growing centre, Darjeeling straddles a ridge 2,200m up in the Himalayas and almost 600-km north of Kolkata. Its been more than 50 years since the British departed, still the town remains as popular as ever with holiday-makers from the plains, and promenades such as the Mall and the Chowrasta still burst with life.

Toy Train & Tea Gardens of Darjeeling India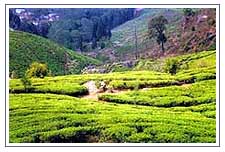 Although one can reach Darjeeling after-hour drive up a steep and winding road from Siliguri, the most exciting and nostalgic form of transportation is the Toy Train. This ' marvel of engineering' was inaugurated in 1881 and is the world's highest track railway. The miniature steam train huffs, puffs and toots as it wrestles its way up a vertical track of blind curves and loops in nine hours. Your Darjeeling travel is incomplete till the time you enjoy a ride in this toy train.
Tea gardens blanket the lower slopes. To the world's tea fanciers, Darjeeling is a name synonymous with prized perfection. Introduction in the 1840s, there are now 84 gardens of which Happy Valley and Lopchu are instantly recognisable to the connoisseur for their special fragrance. As the train nears Kurseong, the mid-point of the journey, it parallels the road, which is lined with tiny shop-houses, and tea stalls. Most, leach-infested forests of Oak, Ilex and Magnolia trees, dripping moss and brilliantly hued Orchids, encroach at every turn.

The Trans-Himalayan Backdrop
Ghoom, as the town's name seems to suggest, is gloomy and dank with perpetual fog. At this Tibetan village, which is at an altitude of 2,276 m (7,470 ft), one can hear the foghorn-like sounds of Buddhist monks blowing their giant Gyeling pipes from the rooftops of the nearby Yiga-Choling ' Yellow Hat' Buddhist Temple.
Ghoom is the jumping off point for an excursion to Tiger Hill, which should not be missed if the weather co-operates. For a truly magnificent view of the Himalayas, one must arrive before the sun rises and the clouds roll in. Inky darkness gives way to a gauzy mauve dawn and the peaks are unveiled in all their glory. Mount Everest, Lhotse, Makaly, Kabru, Kanchenjunga, Siniolchu and Chomolhari can all be seen with the forbidden peaks of the Tibetan Trans-Himalayan as a backdrop.