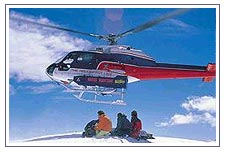 For high mountain thrills perhaps nothing can surpass the magic of heli-skiing. Under a deep blue sky, the skiers are carried by helicopter to a snow-draped peak. And after that there is nothing except steadily distancing whirr of rotor blades, the sky and the snow. It is a thrilling experience as the skier rapidly zooms down the slopes.
Heli-skiing is an expensive sport because participants are taken to high mountain tops or the ridges by the helicopter and dropped there. The skiers than ski down through the unknown route on the slopes. Skiers also choose their own slopes or terrain thus they need not waste time and energy in climbing up the slopes.

Heliskiing Sites In The Himalayas
Himalayas is full of ultimate skiing destinations and if you an extreme sports lover and experienced enough to climb the glacial regions, then take up you heli skiing venture among the Indian Himalayas. Consistent heavy snowfalls and variety of mountain ranges, the Himalayas provide the best attributes for any skier. In addition to the numerous ski resorts throughout the Himalayan region, you can also find the ultimate skiing experiences of heli skiing over here.