The Himalayas, abode of snow & sages, the seat of adventure, the cradle of mythology, where high mountains rising into the sky are separated by beautiful valleys through natural and man-made passes.
Day 1 : Shimla - Sarahan
From Shimla drive to Sarahan (1,920m/ 174-km). Overnight stay at the hotel.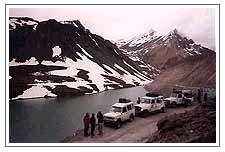 Day 2 : Sarahan - Chitkul
Drive from Sarahan to Chitkul (3,450m/122-km). Overnight stay at the trekking campsite in Chitkul.
Day 3 : Chitkul
Trek through lush green meadows to the grazing fields of Nagasti on the banks of the Baspa River, after lunch on the riverbank return to the campsite in Chitkul for overnight stay.
Day 4 : Kalpa & Recong Peo
After breakfast drive to Kalpa (2,900m/ 80-km) en route visiting Recong Peo, the new Buddhist monastery built to commemorate His Holiness Dalai Lama's Kalchakra sermon and the ancient village of Pangi, lunch will be served en route. After tea at trekking camp in Kalpa walk to Chinni village. These villages offer a good opportunity to observe the lifestyle of the inhabitants. Return to the camp for overnight stay.
Day 5 : Pub & Khab
The barren and rugged brown mountains start from Pub (2,837m), one can continue along the Sutlej till one reaches Khab (2,831m) the meeting point (Sangam) of rivers Sutlej and Spiti. A direct climb up takes one to the temple of Padmasambhava the second incarnation of Lord Buddha. Camp overnight.
Day 6 : Spiti Valley & Tabo Monastery
Drive inside Spiti valley. Geologically and archaeologically, Spiti is a living museum. These barren rock mountains are devoid of any vegetation due to erosion by wind, sun and snow over thousands of years. The rugged and rocky mountain slopes sweep down to the riverbed giving the landscape a moon like appearance. Climb up to Tabo (3,050m/64-km), he largest monastery in Spiti and one of the few remaining examples of golden period of Buddhist culture in the Himalayan region. Camp overnight.
Day 7 : Dhankar Monastery - Tabo - Kaza
Drive to Dankar (also spelt as Dhankar) the traditional capital of Spiti, Dankar Gompa (3,890m) is located on top of a hill 25m. From Tabo, a further 22-km. takes one to Kaza. Camp overnight.
Day 8 : Ki Gompa - Kaza
Visit the famous Ki Gompa and onward to the second highest inhabited village in the world Kibber. Return to Kaza and camp overnight.
Day 9 : Chhatru & Kuzum Pass
Drive to Chhatru (3,560m/160-km), over the famous Kunzum pass (4,551m). Camp overnight.
Day 10 : Chhatru -Keylong
Drive from Chhatru to Keylong (3,350m/104-km). Camp overnight.