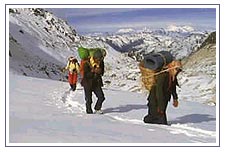 A journey through Himachal holds the promise of a deep and refreshing communion with nature in its varying beauty. The lush river valleys surrounded by snow-capped peaks, the fruit-laden orchards, gurgling streams and the dense forests that echo with birdsong evoke enchantment and delight. Closer to the Greater Himalayan and Zanskar range, delight gives way to awe as one is faced with the stark, haunting landscape of the cold desert. Here, still lakes gleam like emeralds and sapphires amidst towering white mountains that stand aloof and forbidding in their majesty.
There are four mountain ranges running almost parallel to one another in Himachal Pradesh and thus creating charming and beautiful valleys and passes suitable for trekking. There are numerous passes on these ranges which connect the valleys, making good trekkking routes for all types of trekkers. One can cross one pass and return over the other or proceed further to cross another on the next range. There are about two dozen passes on the Dhauladhar, a dozen over the Pirpanjal range and 8-10 such passes over the Great Himalayan range to cross over to the Zanskar valley. Himachal offers a virtual bonanza for trekkers.
The four great mountian ranges and a fluctuating snow line gives Hinachal very cold climate. Though there are some regions which have hot summers and cold winters, majority of the trekking routes fall in those areas which are perenially cold. Thus trekking in Himachal requires adequate preparation to brave the cold wintry climate. For moderate to strenuous treks, the best season is from June to October. It is advisable avoid the winters for trekking.