Of the numerous peaks situated in the Himalayan region, Nanga Parbat peak has passed into mountaineering lexicon. Standing remote and aloof, at the western edge of these ranges, Nanga Parbat's name that means "the Naked Mountain", describes the peak better than anything else. Its sharp ridges can hold little snow and this unclad appearance is most unusual in zones where all other mountains are wrapped in white snow. It is considered the ninth highest mountain in the world.

The Murder Mountain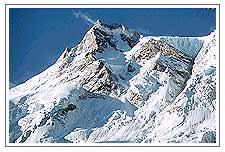 Nanga Parbat is much favoured by most climbers, but it were the Germans, who gave it the name, Murder Mountain. The explorer, Albert Frederick Mummery, was the first to venture on this mountain. Daunting and wild, bearing the onslaught of gnawing wind and torrential rain during the monsoons, Nanga Parbat is full of the dangers of the unknown. The Sherpas, localites of the Himalayan region call Nanga Parbat, "the maneater" or the 'Mountain of the Devil'. No other peak has claimed lives with such sickening regularity and the list of tragedies is heart-wrenching. In the last century, roads have been built in the Karakoram range, but little else has changed in this region.
Nanga Parbat has a height of 8126 meters/26,660 ft. It has three vast faces. The Rakhiot (Ra Kot) face is dominated by the north and south silver crags and silver plateau; the Diamir face is rocky in the beginning. It converts itself into ice fields around Nanga Parbat peak. The Rupal face is the highest mountaintop in the world.
Reinhold Messner, a living legend in the sport of mountaineering from Italy, says that "Every one who has ever stood at the foot of this face (4,500 meters) up above the 'Tap Alpe', studied it or flown over it, could not help but have been amazed by its sheer size; it has become known as the highest rock and ice wall in the world!"
The Nanga Parbat peak was discovered in the 19th century by Europeans. The Schlagintweit brothers, who hailed from Munich, Germany came in 1854 to Himalayas and drew a panoramic view which is the first known picture of Nanga Parbat. In 1857 one of them was murdered in Kashgar and this was the beginning of curse of Nanga Parbat.