The annapurna range situated in central Nepal has one of the most dominating Himalayan panorama. Placed just north of Pokhara the range from west to east consists of Annapurna South Face (7,219m), Gang (7,647m), Gangapurna (7,455m), Annapurna III (7,555m), Annapurna IV (7,525m) and Annapurna II (7,925m).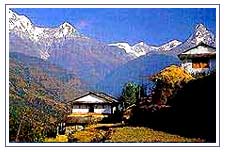 Anapurna is an enormous Himalayan massif and the tenth highest mountain in the world. In 1950, it became the first 8,000 meter mountain to be successfully climbed. Located to the east of a great gorge that cuts through the Himalayas by the Kali Gandaki river, this mountain range has glaciers on its western and northwestern slopes, which drain into this gorge.
Annapurna is a Sanskrit name that means "Goddess of the Harvests" or "The Provider". Of Annapurna's many high peaks, five are labeled using some variation of the name Annapurna. Of these, the two highest (Annapurna I and II), stand like bookends at the western and eastern ends of the massif.

Annapurna Mountaineering Attempts & Expeditions
Annapurna was the first among the 8,000m peaks of the Himalayas ever climbed. The first ascent of the Annapurna via the North Face in the year 1950 was immortalized in the great Maurice Herzog's book "Annapurna". 20 years later another team succeeded on the mountain. Chris Bonington's team 1970 ascent of the South Face of Annapurna was a landmark in the history of mountaineering.
Two American women, Irene Miller and Vira Komarkova, have reached the summit via the North Face in October of 1978, making the first ascent by Americans! In May of 1988, American Steve Boyer, working with a large French expedition, reached the summit, repeating the Bonington route on the South Face with a large French expedition.

Annapurna Sanctuary Trek
The Annapurna south face base camp is known as Annapurna Sanctuary, and in this trek the route folowed is into the heart of the Annapurna range. The trek is not very difficult and most ideal for a closeup view of the montains. The trek is best suited for early Autun or late Spring as the chance of the route getting snow bound during the winter months is high.