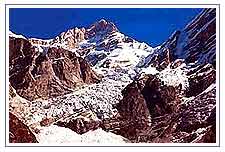 Manaslu is the high peak of the Gurkha massif, and is the eighth highest mountain in the world, located about forty miles east of Annapurna, the 10th highest mountain. The mountain's long ridges and valley glaciers offer feasible approaches from all directions, and it culminates in a peak that towers steeply above its surrounding landscape, and is a dominant feature when seen from afar. The name Manaslu is derived from the Sanskrit word "Manasa" and can be roughly translated as "Mountain of the Spirit".

Dhaulagiri First Attempts & Mountaineering Expeditions
In 1972, fifteen members of a Korean expedition were killed at 22,800 feet when an avalanche buried their camp. Two years later, the news from the mountain was better: An all-female Japanese expedition successfully ascended to the summit, thereby becoming the first women to climb an 8,000 meter peak.
In 1997 Charlie Mace made the first American ascent and since that time only four other Americans have stood on Manaslu's summit. The route is of moderate technical difficulty, but the true difficulty will be the grueling nature of this remote peak. After an arduous trek to base camp the climber will be faced with a circuitous route up a mountain infamous for heavy snow accumulation. Avalanches and sheer exhaustion will be their major obstacles.

Other high peaks of the Gurkha massif include the following: