Day 1 : Leh - Marhi
Begin the cycling tour from Leh and proceed towards Marhi, 50-kms. Camp at Marhi.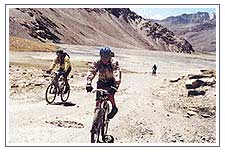 Day 2 : Marhi - Koksar
Continue tour from Marhi to Koksar, 50-kms. Camp at Koksar.
Day 3 : Koksar - Jispa
Continue tour from Koksar to Jispa, 40-kms. Camp at Jispa.
Day 4 : Jispa - Zingzingbar
Continuation of the cycling tour from Jispa early in the morning to Zingzingbar, 50-kms. Camp at Zingzingbar.
Day 5 : Zingzingbar - Sarchu
Early next morning continue tour from Zingzingbar to Sarchu, 65-kms. Camp at Sarchu.