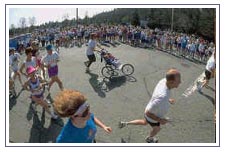 Himalayas is a destination where one can find illusion as well as reality. The potentially of the great Himalayas is an unexplained force which will tempt travelers to visit and again.
Of course, India has its own resources for adventure sports. A running event in high altitude is absolutely a thrilling experience and a new concept to Asian sports, it is First Asian country where multi-day state race in high altitude is being organized as an annual event. With fun and thrill, it gives a once-in-a lifetime experience.

The Himalayan 100-mile Stage Race
It is a 5 days stage run in the high Himalayas at an altitude varying between 6,600 to 11,815 ft. There are no specific rules, age bar, and stage cut-off time. Anyone, physically fit and interested can take part. The speed in running depends upon the individual runners. They can run or they can just walk.
Running Stages
The run is designed for five days of 24-20-26-13-17 miles.