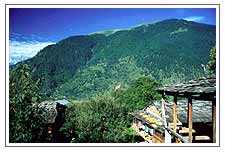 The Skanda Puranas have held Himalayas and Himachal Pradesh in high esteem and reverence.
"As the due is dried up by the morning sun, so are the sins of mankind by the site of Himachal".
The Himalayas, the youngest, loftiest of all the mountains in the world and embracing seven out of the ten highest peaks, sprawl approximately 2,560-kms from North western to the south eastern along with its extension in North eastern India and has breadth from 250-km to 400-km. States of India namely Arunachal Pradesh, Nagaland, Tripura, Manipur, Meghalaya, Mizoram, Sikkim, Himachal Pradesh, Jammu and Kashmir, Uttranchal and Darjeeling district of West Bengal are located in Himalayas.

The Himalayan Landscapes
The undulating Himalayas welcome with bottle green shrubbery in the foothills of Shivalik Ranges, crescent shaped, snow clad Dhauladhar over shadowed by the Pir Panjal and the Great Himalayan Ranges. The land is dotted by beautiful lakes and valleys located between an altitude of 350 metres and approximately 6,810 metres, intercepted by rivers and sprawling valleys.
The forests, flora and fauna, wild life and natural scenic beauty with salubrious climate is a haven for the visitors. The alpine land, spread over Lahaul and Spiti to Pangi valley, is an ardent destination for Aplinists and a feast of hedonic nature's bounty.
In Himalayas, medicinal herbs have been growing throughout nature kindness from the times immemorial. Adventure sport is another area of tourism activities, which yields greater scope for trekking, camping, mountaineering and skiing, etc.

Visiting The Land Of Gods
The fairs and festivals, customs and gatherings attended by the locals represent the unconceited simple disposition and hospitable populace. To visit Himachal, by itself, is an experience of heritage. Himachal is popularly described as "Dev Bhumi". The temples, churches, Gurdwaras, monasteries besides bearing testimony to the typical pieces of architecture and woodcarving enjoy the international fame.
With several spurs and sub system, the Himalayas are a strong spine for the state of Himachal Pradesh in Northern India. They have also given the area an enormous geographical spectrum - and one that is unparalleled in the world.
To sum up, it is truly said,
"A sweeter and a lovelier land,
framed in the prodigality of nature.
The spacious world cannot afford to have again."