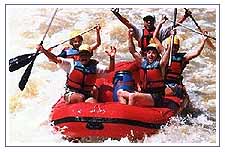 Our summer Camp runs May till July each year in the western part of Uttaranchal, in the Jaunsar Bawar region on the banks of the Tons river. Located at a pleasant 3500 feet above sea level, this area is rich in every type of western Himalayan flora and fauna, densely forested with deodar, pine, alpine oak, birch, chestnut, rhododendron and jamun. An excellent camping site, relaxing walks, ample angling opportunities and great whitewater make it an ideal getaway for everyone including families and children, from the quiet holiday-maker to the die hard adventure seeker.
Only 410 kms from Delhi, it offers an escape from 4 days onwards to a week or two. Rafting on the Tons (the biggest tributary of the Yamuna with its source in the snowfields of the 20,720ft high mountain, Bandarpunch), a small volume, Class 4 river offers an excellent adrenaline rush and adds to the excitement of being in the outdoors. Staying at Camp in the midst of thickly forested hillsides and riverside beach combined with hikes and overnight treks in the hills around our Camp and fishing for trout, make it a memorable family getaway from the summer heat. And for keener rafters and kayakers, try out a multi-day expedition style trip on the Tons river till the dam at Icchhari
Day 0 :
Board overnight Mussourie Express to Dehradun from Delhi departing Old Delhi Railway station at 2220 hrs. Overnight train.
Day 1 : Arrive at Dehradun 0745 hrs.
You will board waiting vehicles and drive to Camp in time to arrive for lunch by 2pm. Welcome drink over camp briefing, check into tents and relax. After lunch, we collect for a safety briefing at Camp and board rafts for a short raft trip till Khunigad. Drive back to Camp for tea/coffee. Campfire dinner and overnight at Camp.
Day 2 :
Tea/coffee served under the dining area by 6:30 am onwards. After breakfast at 8:30, we drive to Mori village and raft down lots of rapids till Khunigad, stopping for refreshments at Camp enroute. Drive back to Camp from Khunigad for hot lunch. Volleyball/cricket or an optional hike up the Lunagad creek for a swim in its deep pool. Return to Camp by teatime. Campfire dinner and overnight at Camp.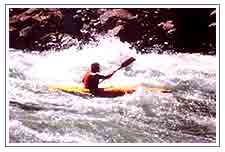 Day 3 :
Today, we take a short drive to Miagad and begin the trek to Kedar Kantha. We pitch Camp mid-way and sleep in small trekking tents. Overnight camp at Gujjar Thach.
Day 4 :
Today, after breakfast, we reach the top of Kedar Kantha. Overnight Camp.
Day 5 :
Spend the day at Kedar Kantha taking short hikes around the Camp area. Overnight camp.
Day 6 :
Today, we return to our base camp on the banks of the Tons river.
Day 7 :
Drive to Mori for another adrenaline pumping raft trip to camp. After an early lunch, drive to Dehradun to board the overnight Mussourie Express departing Dehradun at 2130 hrs (arriving Delhi at 0700 hrs the next day) or the Shatabdi Express departing Dehradun at 1700 hrs (arriving Delhi at 2230 the same day).