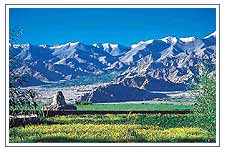 Day 1 : Leh - Hemis
Drive from Leh (3500 Mts.) to Hemis (3505 Mts.) visiting some of the Monasteries on the way. Spend the night in Hemis to acclimatize and visit the impressive monastery
Day 2 : Hemis Spend the day at Hemis
Acclimatize and prepare for the trek. The day is free to visit the Gompa and the meditation quarters of the monks. Get to know your trekking team and have a informal briefing about the trek.
Day 3 : Hemis - Sumdo - Chogdo (5-6 hr.)
Drive from Hemis to Sumdo (3850mts)(1 1/2 hr.). Trek from Sumdo to Chogdo (4050 Mts.). Camp at Chogdo.
Day 4 : Chogdo - Base of Kongmaru La (3 hr.)
Trek uphill for about three hours to reach the small campsite at the Base of Kongmaru La Pass (4800 Mts.). This place is frequented by Blue Sheep/Bharal and good photographs of them are possible for early risers.
Day 5 : Base Camp - Kongmaru La - Nimaling (5 hr.)
Leave early morning and tackle the stiff but short climb to the top of the Pass Kongmaru La (5150 Mts.). From the Pass there are beautiful views of Mt Kangyaze (6400 Mts.) which stands above the meadows of Nimaling. There is a short and gradual descent till the meadows of Nimaling (4650 Mts.).
Day 6 : Nimaling - Langtang Chu (3-4 hr.)
Climb the small ridges behind Nimaling and get closer to Mt Kangyaze. After crossing some hard rocky trails descend to Langtang Chu (4750 Mts.) where there are numerous camping sites.
Day 7 : Langtang Chu - Zalung Karpo La - Sorra (7-8 hr.)
There is some very exciting trekking to be done on this day. The ascend to the top of the Zalung Karpo La (5100 Mts.) takes about four to five hours. There is a ridge walk from the top of the Pass to another small Pass and then down to the Valley floor and Sorra (4200 Mts.)
Day 8 : Sorra - Dat (4-5 hr.)
Departure to the Airport for flight to Delhi.