This 8 day tour takes in all the highlights of central Tibet. After flying to Lhasa, visit the famous Potala and Norbulinkha palaces, the great monasteries of Drepung and Samye and walk through the bustling Barkor Bazaar. Drive overland to Shigatse and Gyantse to see the Tashilungpo monastery and the Kumbum Stupa and then to the "valley of the kings" in Tsetang before flying back to Kathmandu. A choice of hotels are available in Lhasa and best hotels in other places. The most comprehensive tour to see all the power places of Tibet.
Day 1 :
Fly Kathmandu - Lhasa. Rest in Lhasa for acclimatization.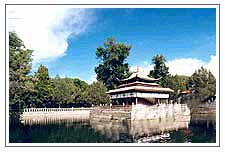 Day 2 :
Sightseeing of Drepung & Jokhang Monasteries and Barkor Market.
Day 3 :
Sightseeing of Potala & Norbulingka Palaces and Sera Monastery.
Day 4 :
Drive Lhasa (3650m) to Xigatse (4900m). Sightseeing of Free Market. Overnight Xigatse Hotel.
Day 5 :
Sightseeing of Tashi Lungpo Monastery. Afternoon drive to Gyantse (3950m/2 hours). Sightseeing of Khumbum Monastery & Phalkor Monastery. Overnight Gyantse Hotel.
Day 6 :
Drive to Tsedang (3400m) via Yamdrok Lake. Overnight Tsedang Hotel.
Day 7 :
Sightseeing of Yambu Lakang, Tombs of Ancient Tibetan Kings, Chajju Monastery. Overnight Tsedang Hotel.
Day 8 :
Drive to Gonggar Airport. Fly Lhasa - Kathmandu or Chengdu for onward journey.