The flight from Kathmandu across the Himalayan mountain provides a fitting introduction and perspective of our journey in Tibet. The Potala Palace, which rises above the town of Lhasa, dominates the landscape yet is dwarfed by the awesome size and beauty or the surrounding mountains.
The overland journey traverse high passes and rugged terrain before crossing the Himalayan range back into Nepal.
Day 1 : Fly Kathmandu to Lhasa
Upon arrival at Gonggar airport, you shall be met and transfer provided to Lhasa City. O/nt at Hotel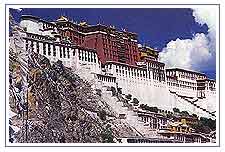 Day 2 - Day 3 : Lhasa Sightseeing Tour
Visit Potala & Norbulinka Palace. Drepung & Sera Monastery, Jokhang Temple and Barkhor Bazaar. O/nts at Hotel Lhasa.
Day 4 :
Drive to Gyantse over 2 mountain passes visiting Yamdrok - Tso lake enroute. O/nt at Hotel Gyantse.
Day 5 :
Visit The Khumbhum Stupa & Phalkor Monastery, and drive to Shigatse. Sightseeing tour of The Tashilunpo Monastery & the free Tibetan market. O/nt at Hotel Shigatse.
Day 6 :
Drive to Xegar. O/nt at Hotel Quomolangma.
Day 7 :
Drive to Zhangmu. O/nt at Hotel Zhagmu.
Day 8 :
Drive downhill to Friendship Bridge where transportation awaits for the Group's journey to Kathmandu.