This trek will take you through some of the most beautiful forests of Sikkim. In spring this trail is especially beautiful with Rhododendrons, Magnolias and other flowers in full bloom - truly a naturalist's paradise. You'll come close to Mt. Kanchenjunga and also get an awe inspiring glimpse of the Sikkim mountains, cloaked in granite and thickly hooded with ice.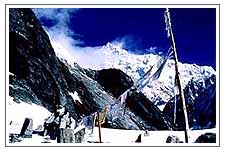 Day 1 : Delhi - Bagdogra - Gangtok
Arrive Delhi and transfer to Domestic airport for flight to Bagdogra. On a clear day, you may catch a glimpse of the mighty Mt. Everest from the plane. Met on arrival and transfer to Gangtok by road (125 km/ 5 1/2 hr.). Arrive late evening and check into the hotel.
Day 2 :
At Gangtok
Spend a day in sightseeing Gangtok city. See the Dodrul Gompa and stroll down the little bazaar. After lunch, a small drive will take us to the famous Rumtek Monastery, the seat of the Kagyupa sect of Buddhism. O/nt Hotel at Gangtok.
Day 3 : Gangtok - Yuksom
After breakfast, we'll drive to Yuksom ( 90 kms) through beautiful villages, waterfalls and rice fields. Yuksom is a tranquil tableland which has recorded many historic events. The first king of Sikkim, H.H.Funchook Namgyal was crowned here by his holiness, Gyalwa Latchan Thembo, the man who brought Buddhism to Sikkim in 1641. Yuksom provides beautiful vistas of mini lakes against the Himalayan backdrop. O/nt Safari Camp.
Day 4 : Yuksom - Bakhim (12 kms/ 9000 ft)
As you leave behind Yuksom and follow the mule track along the fast flowing Rathong Choo stream, crossing two wooden bridges, the area is thickly wooded. Rathong Choo originates at the Doodh Pokhri (Milk Lake), sacred in the local beliefs. A small temple invites devotees from as far as Nepal, across the glacier. The lake is a restricted area. This lake is fed by the Rathong and Kokthang glaciers.
The trek in spring passes through the Rhododendrons flower belt. The final ascend to Bakhim is a serpentine trail, of countless bends, after crossing the second wooden bridge falling enroute. It is really a peaceful and tranquil area. O/nt in the Camp.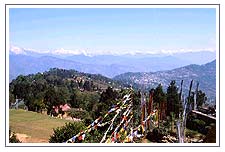 Day 5 : Bakhim - Dzongri - 8 Kms / 10155 ft
As we move on, we come closer to the famous Kanchenjunga and get an initial view of the Sikkim snows. From Phittang, the trail leads up an exquisite forest of Rhododendron to Deorali Dara. From here you will get an excellent view of the massive ranges of Sikkim mountains. Straight ahead is the third highest peak in the world - The mighty Kanchenjunga. O/nt Camping at Dzongri
Day 6 : Day 6 - Dzongri - Thangsing ( 7 kms/12467 ft)
A four hour trek leads through meadows and valleys into a beautiful valley situated at the base of Jopine Peak. Surrounded by massive mountains on all sides, a stream pierces the forests and presents an enchanting scene. To reach the camping area, you will have to cross a wooden bridge over the stream. O/nt Camping.