Season :
Because of low altitude, it is possible to do this trek throughout winter season.
Day 1 : Arrive Paro
On arrival at Paro airport, received by Connecting Horizons Adventures representative and transfer to the hotel. Evening visit Thimphu market and down. Overnight at the hotel in Paro.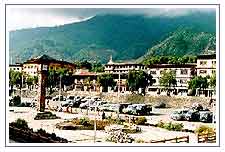 Day 2 : Paro
Full day sight seeing of Paro Valley. After breakfast drive to Drukgyel Dzong, although now in ruins this Dzong is of historical importance. Also from here Mount. Chomolhari - "mountain of Goddess" can be viewed on a clear day. On the way back, visit one of the holiest Lhakhang of Bhutan, the Kyichu, built in 7th century A.D. It dates back to the time of Tibetan King Songtsen Gampo. After lunch, visit Ta Dzong, once a fortified lookout tower and now serving National Museum of the country. Also visit Rinpung Dzong, meaning "fortress of the heap of jewels", it is the centre of district administration and monk body. Overnight at the hotel in Paro.
Day 3 : Paro - Thimphu
After breakfast drive to Thimphu, the present day capital of Bhutan. Just before Thimphu, stands Simtokha Dzong. Built in 1627, it is the first Dzong built by Shabdrung Ngawang which now houses the School for Dzongkha studies. Afternoon, visit Tashichhodzong, "fortress of the glorious religion", built in 1641 by the first Shabdrung and reconstructed in 1961 under the Late King, Jigme Dorji Wanhchuck. Visit Memorial Chorten, the beautiful stupa built in 1974 in the memory of Bhutan's Third King who is popularly regarded as the Father of modern Bhutan. In the evening visit Handicrafts Emporium which displays wide assortment to beautifully handwoven and drafted products. Overnight at the hotel in Thimphu.
Day 4 : Thimphu - Khuruthang
Drive to Khuruthang with packed lunch. Enroute stop at Dochula pass (alt. 3100) to get fascinating view of snowcapped eastern Himalayan mountain peaks. Lunch at the campsite and after that visit sacred Punakha Dzong, a superb example of Bhutanese architecture. Fire earthquake and floods have inflicted their devastating influence of this Dzong which under the direction of present King has been restored completely. The reiamns of the Shabdrung are extomed here in the chapel of Machin Lhakhang. The road from Thimphu to Punakha is a magnificent canvas of colour, a profusion of multi-coloured blossoms amongst the soft green of wild herbs and forest trees. Overnight camp at Khuruthang.
Day 5 : Khuruthang - Limukha [14 Km, 5/6 Hours]
The trek begins with gradual climb through chirpine forests. Visit to Dompala village enroute. Overnight camp.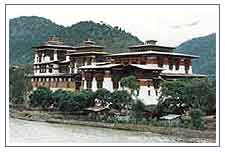 Day 6 : Limukha - Chungsakha [14 Km, 5/6 Hours]
The trail takes you through rhododendron and oak forested areas. Enroute pass a famous Drukpa Kuenly Lhakhang.
Day 7 : Chungsakha - Samtengang [13 Km, 5 Hours]
The treks takes you to the village f Sha under Wangdi district. Camp at Samtengang at lakeside.
Day 8 : Samtengang - Wangdiphodrang - Thimphu
The trail now drops down till the motor road where you will be received by Connecting Horizons Adventures tramsport and transefr to Wangdi. After lunch, visit Wangdi Dzong and local market and then drive to Thimphu. Overnight at the hotel in Thimphu.
Day 9 : Thimphu - Paro
Morning Thimphu city tour. Visit National Library which holds vast collection of ancient Buddhist texts and manuscripts. Then visit, Painting School famous for Bhutanese Thangkha paintings. Also visit to Traditional Medicine Institute is worthwhile where centuries old healing arts still practiced. After lunch, drive to Paro enroute visiting village house just to get an idea of the lifestyle of the local people. Overnight at the hotel in Paro.
Day 10 : Paro Depart
After breakfast in the hotel, drive to Paro airport for flight to onward destination.