Day 1 : Arrive Paro :
Arrive Paro by Druk Air flight. During this flight, one will experience breathtaking views of Mount. Everest, Kanchenjunga and other Himalayan peaks including the sacred Chomolhari and Mount. Jichu Drake in Bhutan. The first gift from Bhutan will be cool, clean fresh air as you step out of the aircraft. Received by Connecting Horizons Adventures representative and transfer to the hotel. Evening visit Paro market and town. Overnight at the hotel in Paro.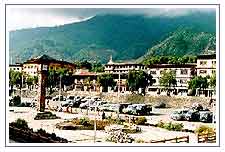 Day 2 : Paro :
After breakfast drive to Drukgyel Dzong, although now in ruins, this Dzong is of historical importatnce. From here the peaks of Mount Chomolhari - "Mountain of Goddess" can be seen, on a clear day. One the way back, visit one of the holiest Lhakhang of Bhutan the Kyichu, built in 7th century A.D. and it dates back to the time of Tibetan King Songtsen Gampo. Afternoon, visit Ta Dzong, the multistoreyed round tower built in 1775 as watch tower and refuge fortress for the Rinpung Dzong. The National Museum was opened within its walls in 1967. A visit there is really made worthwhile by the carefully selected and exhibited collections of utensils, folk arts, weapons, thangkhas statues and postage stamps. After that visit Rinpung Dzong, the renowned fortress which has a long and fascinating history. Overnight at the hotel in Paro.
Day 3 : Paro - Thimphu :
After breakfast, drive to Thimphu with a short stop at Chuzom(confluence) where Paro river joins Thimphu river. Three different style of chortens adorn the confluence. Before arriving Thimphu, visit Simtokha Dzong, the oldest fortress of the Kingdom, built in 1627. The complex has survived in its original form and serves today, as religious college, in which, amongst other subjects, Dzongkha is taught. Afternoon Thimphu city tour. Visit gigantic Tashichodzong, the seat of government and home to Je Khenpo (Chief Abbot) Memorial Chorten, the beautiful stupa is other interesting monument to see, which is built in the memory of Bhutan's Third King, His Late Majesty, King Jigme Dorji Wangchuck. Evening take a stroll on Thimphu market. Overnight at the hotel in Thimphu.
Day 4 : Thimphu :
Full day sight seeing of Thimphu valley. Visit, National Library, which holds interesting collection of ancient Buddhist texts and manuscripts, Painting School known for its thangkha paintings and athe Traditional Medicine Institute where indigenous healing arts still practiced. Also visit Handicrafts Emporium. Exotic weaves in wool, silk and cotton, basketware, silver jewellery, thangkhas and other traditional crafts of the Kingdom are available here. Overnight at the hotel in Thimphu.
Day 5 : Thimphu - Shong Pang :
Drive north of valley towards Dechenchholing palace, following Thimphu river. The transport will drop at Pangrizam. From here the trek starts towards Shong Pang which takes about 5/6 hours, passing through villages enroute. Enroute vegetation is mainly blue pines, oak species, rhododendrons. Overnight in the camp.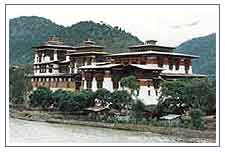 Day 6 : Shong Pang - Dopshing Pang :
The trek trails ascends gradually up till you reach the Sinchula. From this point, if the weather is clear, one can see Phajoding monastery. After 2 kms, you can view Thinleygang village, the Talo monastery and the motor highway towards the ancient capital of Bhutan. The trek drops gradually from the pass till you reach the campsite. Overnight in the camp.
Day 7 : Dopshing Pang - Chorten Ningpo :
The trek to Chorten Ningpo is rather gradual and you will be walking into thick forests. Before reaching camp, you will pass through villages and rice fields. Camp at an altitude of 2700m.
Day 8 : Chorten Ningpo - Zomlingthang :
For about 2/3 hours the trek trail will be through villages until the motor road. Later follow the road towards Punakha, the ancient capital town of Bhutan. Evening at leisure and if interested, can do fishing in Mo Chu river. Overnight in the camp.
Day 9 : Zomlingthang - Limukha :
Follow the road till Punakha Dzong and then across the Pho Chu river, the river that drains the remote Lunana region. It's a steady half day climb into a forest if scattered long needle chip pines. Further you will have a wonderful view of Punakha valley and Dzong. Also, if the weather is clean, you can see some of the snow capped mountain peaks to the north. The camp site is near Limukha village at an altitude of 2250m..
Day 10 : Limukha - Chungsakha - Wangdiphodrang :
The trek trail rises gradually up through the forests of oak species and rhododendrons and then descends gradually through the thick forests till you reach a small monastery dedicated to Lam Drukpa Kuenley. From Chungsakha, you can look across the valley to Samtengang. Walk downhill till you reach the motorable road and then drive for half an hour to Wangdi. Overnight at the hotel in Wangdiphodrang.
Day 11 : Wangdiphodrang / Punakha - Paro :
After breakfast, visit to Wangdi Dzong, standing at the confluence of Punakha Chu and Tang Chu river. This fortress was built in 17th century by Shabdrung Ngawang Namgyal. It holds attractive festival which is celebrated in autumn. After that drive to Punakha, the old capital town of Bhutan. Visit sacred Punakha Dzong, the superb example of Bhutanese architecture. Fire, earthquake and floods have inflicted their devastating influence on this Dzong which under the direction of the present King has been restored completely. The remains of the Shabdrung are extomed here in the Chapel of Machin Lhakhang. After lunch, drive to Paro. Overnight at the hotel in Paro.
Day 12 : Paro Depart :
After early breakfast, drive to Paro airport for flight to onward destination.