Day 1 : Arrive-Delhi
Met at the Airport and transfer to Hotel . PM: City Tour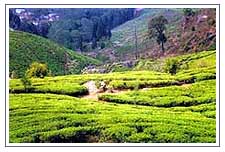 Day 2 : Delhi - Bagdogra - Darjeeling
Morning transfer to the airport to connect the flight to Bagdogra . On reaching Bagdogra we will be received by the botany expert who will accompany us for rest of the tour in Sikkim and Darjeeling. Bagdogra to Darjeeling is a three hours drive uphill through tea gardens and small towns. We will occasionally meet the famous Darjeeling toy train, huffing and puffing across our road.
Day 3 : Darjeeling
Early morning visit Tiger Hill for fabulous sunrise views of Mt.Kanchenjunga , the third highest mountain in the world at 28,156 ft. Mt. Everest and a host of other Himalayan giants are also seen on the horizon. On our drive back to the hotel we will stop at Ghoom , a Tibetan-Buddhist monastery. After breakfast we shall visit the old botanical gardens to see their collection of rare orchids and other plants. After lunch visit the Himalayan Mountaineering Institute, the Tibetan Refugee Camp and the local market. Evening we will have a lecture by Prof. Pradhan or Prof. Chettri from the Botany Dept. of the local University, on the flora of Darjeeling and surrounding areas.
Day 4 : Darjeeling - Pemayangste
Today's' drive is truly a naturalist's delight. The hillsides and mountain slopes of Sikkim are strewn with bright patches of myriad colors. The lower mountain slopes are abundant with lush green bamboo and ferns. The northern valleys are draped with wild cherry, oaks, chestnut, pines as well as magnolia variety's called Magnolia Campbeli and Michelia Doltso-pa. The higher altitudes are abloom with 46 species of Rhododendrons. And of course, Sikkim's 600 varieties of orchids are everywhere. This day our 05-hour drive is interesting as we move upstream along the river Rangit through dense forests of sal and teak. Over night will be in a government-run tourist lodge called Mount Pandim, situated on top of a hill at the altitude of 7000 feet. From your bedroom windows you can see the magnificent Kanchenjunga massif which is only 35 miles away as the crow flies.
Day 5 : Pemayangste to Yuksum via Kecheoplari lake
Early morning after having our breakfast we walk to the Pemayangste monastery which is only a km from the hotel. Here we hear the chanting of the morning prayers by the young and old monks and the smell of the burning Juniferous Squamata and Rhododendron Nivele. Pemayangste , also known as the "Perfect Sublime Lotus ", is one of the oldest monasteries of Sikkim and belongs to the Red Hat sect of Tibetan Buddhists. After visiting this monastery we will drive towards Kecheopalri Lake. After a walk around this "wishing lake ", a short trek downhill towards Yuksum. We will see some common wild orchids like the Dendrobium. This night we will be camping and our food will be cooked by our own staff who will be serving Sikkim specialties along with the famous local brew called the "Tongba".