Day 1 :
Arrival at Guwahati. Sightseeing and halt at Guwahati.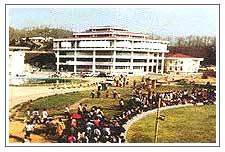 Day 2 :
Early breakfast and 10 hrs. drive to Itanagar through the lush green countryside of Assam. Our inner line permits for the entry at Arunachal Pradesh will be checked at Bandardua. Again 30 minutes drive to Itanagar, the Capital of Arunachal Pradesh. Stay for the night at hotel.
Day 3 :
After morning breakfast visit old Ita Fort dating back to 24th century, Buddhist Monastery, Tribal Museum, Ganga lake. Lunch enroute. Cultural programme and halt at Itanagar.
Day 4 :
After morning breakfast drive to Zero for 8 hrs. through lush green mountain range. On the way, we will visit Nishi Village to know the lifestyle of native Nishi Tribe of Arunachal Pradesh. Zero is a small town of Arunachal Pradesh at the height of 5,754 ft. and famous for Apatani Tribe, which is found only in this region. Lunch enroute. Overnight halt at circuit house / tourist lodge.
Day 5 :
Morning after breakfast drive to old Zero village to study the lifestyle of the local people. Lunch enroute. After lunch we shall take you to Fulu village of colourful Nishi Tribes. Evening back to hotel and halt.
Day 6 :
Early morning after breakfst proceed to Daporizo which will take 9 hrs drive from Zero. On the way we shall visit beautiful villages like Raga and Godak of the Miri Tribes, who are famous for their hunting skills. Lunch enroute. Overnight halt at tourist lodge. Your evening will be enlighted by the cultural performance of the local Miri Tribes.
Day 7 :
Morning after breakfast visit the Shiva Cave and hike to the village Nayam. Lunch enroute. On the way to lodge, we will visit most spectacular and thrilling hanging rope bridge. Overnight halt.
Day 8 :
Early morning after breakfast proceed to Along. On the way, visit the village Kambig, Bogne and Kereng of the Gallong and Minyong tribes of Adis. Lunch enroute. If time permits, visit museum and emporium. Overnight stay at circuit house / tourist lodge.
Day 9 :
Morning after breakfast, proceed to Passighat. Visit museum and cultural centre. Afternoon cross the Brahmaputra by Ferry to arrive the village Rani and Adi Tribes who will present a cultural programme in the evening. Night halt in circuit house / tourist lodge.
Day 10 :
Morning after breakfast say Goodbye to Arunachal Pradesh with fond memories and proceed towards Dibrugarh, which is a beautiful town in the state of Assam, crossing the river Brahmaputra by ferry. Overnight stay at Dibrugarh in a good hotel.
Day 11 :
In the morning proceed to Kaziranga, which is 5 hrs drive from Dibrugarh. Enroute visit Sivasagar, the ancient capital town of the Ahom kingdom, who ruled Assam at a stretch of 600 years before the reign of British. The ancient temples and monuments like Ranghar, Karenghar, Talatalghar, Siva Dol, Jay Dol Jay Sagar etc. can be seen. Lunch enroute. After reaching Kaziranga, the famous wild life sanctuary, overnight stay at Hotel Wild Grass / Tourist Lodge.
Day 12 :
Early morning bed tea will be served at 0400 hrs an. Drive to elephant ride area at 0445 hrs. Enjoy elephant ride through the sanctuary for 1 hr. to appreciate the beauty of famous one horn rhino, wild elephants, Indian bison, swampdeer, samba, hogdeer, sloth bear, tiger, leopard, jungle cat, hog barger, capped langoor, hoolock gibbon, goose, hourbill, ibis, cormorant, egnet, hevon fishing eagle etc.
After breakfast, drive to eastern range forest side by jeep for 2 hrs. and back to lodge for lunch. Rest for 2 hrs. At 1530 hrs. visit the tea gardens. Evening will be enlighted with cultural programme. Night halt.
Day 13 :
Morning after breakfast proceed to Guwahati Airport for departure.