Day 1 : Arrive Paro - Thimphu
Upon arrival meet with our representative and after lunch transfer to Hotel.
Overnight at Hotel in Paro.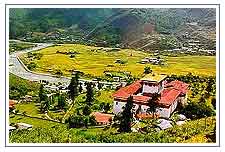 Day 2 : Paro Sightseeing
Visit Kychu Lhakahang, National Museum and Paro Dzong. Later in the evening assemble the trekking gear.
Overnight at Hotel in Paro.
Day 3 : Paro - Shana
Drive up to Drukgyel Dzong where the road ends and trek begins, follow the river gently uphill through a agricultural valley and the village.
Overnight Camp at height of 2,800 m. Dist. 17 km. 5 to 6 hours.
Day 4 : Shana - Thangthayka
Continue uphill through the alpine forest. It narrows and closes in and the winds along the drainage. The trek is mostly through the deep forest. Camp is in a meadow with a stone shelter. Alt. 3750m. Dist. 20 km. 8 to 9 hours.
Overnight Camp.
Day 5 : Soi Thangthayka - Jangothang
Continue up the Pa Chhu (river). Pass a small army post where the valley begins to widen again. Now views of high ridges and snow-capped peaks can be seen all around. Camp beneath a ruined fortress at the base of Mt. Jhomolhari and Mt. Jichu Drake. Alt: 4,040 m, Dist: 19 km, time about 51/2 hrs.
Overnight Camp.
Day 6 : Jangothang Halt
Trek up to Tsophu for fishing or do any one of the three hiking excursions. Mt. Jhomolhari and its subsidiary are due west, Mt. Jichu Drake is to the north, unclimbed summits and ridges are to the east.
Overnight Camp.