Day 1 : Arrive Paro - Flight
The mythical dream-like kingdom comes into view as the aircraft swings in giant arcs and descends onto Bhutan's only airstrip at Paro. This beautiful valley with its rich terraced farmland, is home to some of the Bhutan's oldest temples and monasteries. On arrival you will be met by our local representative and transferred to your hotel. Later this evening stroll around the local Paro market.
Overnight stay at the Hotel.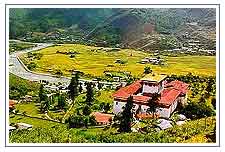 Day 2 : Paro - Sightseeing
This morning we will visit the perfectly symmetrical Rinpung Dzong, built in 1646 by Shabdrung Ngwang Namgyal, the first spiritual and temporal ruler of Bhutan. Also will be visiting the Ta Dzong - situated on the hill side, is the castle-shaped, one time watch tower built to defend Rinpung Dzong during inter-valley wars of the 17th Century, now holds the National Museum.
Later in the day we will be taken on an excusrion tour, about eighteen kilometres from Paro town on south side of the valley to the burnt ruins of Drugyel Dzong (victorious fortress). It was from this monastery that the Bhutanese repelled several invading Tibetan armies during the 17th Century.
Overnight stay at the Hotel.
Day 3 : Paro/Thimphu - Drive
This morning we will depart Paro by surface for the capital of the kingdom, Thimphu. Enroute visiting the 17th Century Simtokha Dzong on a lofty ridge, built in 1627, the oldest in the land, houses the school for Buddhist studies.
Overnight stay at the Hotel.
Day 4 : Thimphu - Sightseeing
This morning we set out on a sightseeing tour of perhaps the most unusual capital in the world is a bustling town on the banks of its own river and gloriously in the hills of its own valley - is the centre of government, religion and commerce.
Visit the Tashichho Dzong on the bank of the river, the main secretarial building which houses the throne room of His Majesty the King of Bhutan. Next to the Dzong is Bhutan's only golf course, a nine hole circuit that is far more picturesque than its testing. The Thangka painting school, in the heart of Thimphu is worth visiting, National Liberary, Traditional Medicine Institute and the handicraft Emporium.
Overnight stay at the Hotel